Putin sets up roadblock to prevent foreign oil companies from fleeing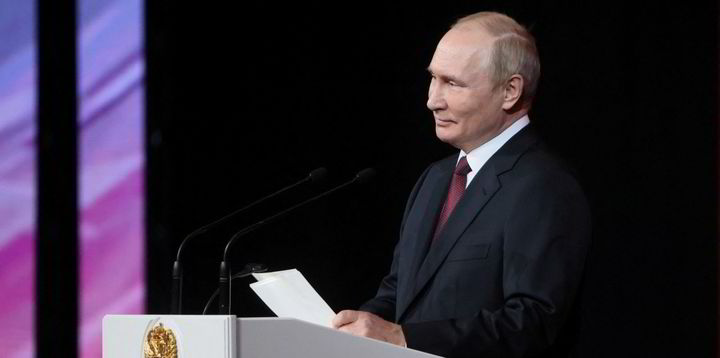 President Vladimir Putin has made it harder for international players in the energy sector to leave their Russian companies or sell their assets or subsidiaries.
Below a decree published on Wednesday, the change of shareholders in these companies and subsidiaries will become possible only with the prior authorization of the Kremlin. The rule applies to nearly 200 companies registered in Russia.
The document does not set clear deadlines or guidelines on how to obtain such permission.
The recently adopted restrictions are linked to another list that Putin approved earlier this year, according to the document.
The list contains what the Russian government describes as "hostile countries" – the 49 states that have introduced sanctions against Russia, its state companies and related individuals, in response to the invasion of Ukraine.
Apparently compiled over the past few months, the new list contains Russian companies and subsidiaries of all major international oil service providers and US and European producers of oilfield equipment and pumps that operated in Russia before the invasion. .
The article continues below the ad
The list includes multinational companies such as Schlumberger, Baker Hughes, Halliburton and Weatherford, as well as specialist drillers Bentec Drilling & Oilfield Systems and KCA Deutag from Germany.
Local subsidiaries of Wellbore Integrity Solutions, NOV (National Oilwell Varco) and Parker Wellbore of the United States are also listed, among others.
In addition to international oil service providers, Russian subsidiaries and companies of German Siemens Energy were also named.
Last summer in the northern hemisphere, Russian authorities and the country's gas giant, Gazprom, blamed Siemens Energy for not delivering a reworked gas turbine to the Nord Stream 1 compressor station, and said the sanctions prevented the company from performing regular maintenance on other wind turbines.
This, according to Russian authorities, forced Gazprom to shut down gas flows through the pipeline to Europe in August for safety reasons, a decision that has been blamed for an unprecedented rise in European gas prices in the third quarter. of this year and losses of several billion dollars. in some European public services.
Most of the international companies and subsidiaries on the list issued statements shortly after Russia's invasion of Ukraine in February, saying they are ceasing all new investment in Russia and will work to divest their active in the country.
However, some of the drillers and their subsidiaries, such as Eurasia Drilling – which works with oil producer Lukoil – and Eriell – a contractor with independent gas Novatek and oil producer Gazprom Neft – are either owned by Russian nationals or to companies in countries outside the scope. so-called "hostile states".
Last week, Putin issued a special executive order allowing Baker Hughes to sell his vast Russian assets to a group of his three Moscow-based leaders.
However, no executive order was apparently needed for an earlier deal in which Halliburton transferred its Russian businesses to a group of local leaders.
Those executives will now have to get Kremlin permission if they decide to sell the former Baker Hughes and Halliburton stakes under their control, it is understood.