Chief Secretary urges public and officers to use over 200 government online services: Digital J&K Week 2022 ends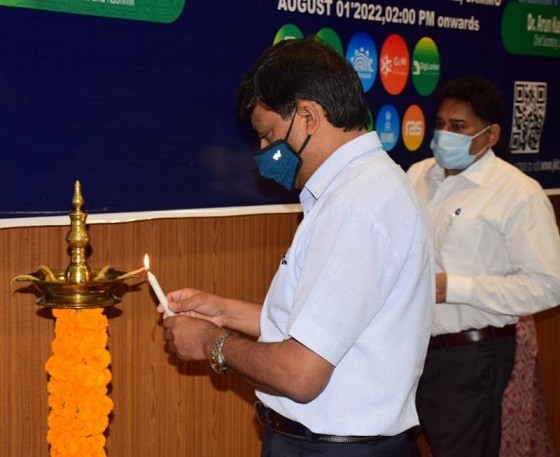 JAMMU, 1st AUGUST: The Digital J&K Week 2022 ended with a Farewell Ceremony held here at the Convention Center Jammu today. Chief Secretary Arun Kumar Mehta was the guest of honor on the occasion.
From the Government of India, Union MeITY Secretary, Alkesh Kumar Sharma and NeGD Chief Executive Officer, Abhishek Singh also participated in the event via video conference.
They praised the separate efforts made by the UT government to provide digital services to the public.
The Chief Secretary said that during the ongoing digital revolution, feedback from thousands of people can be collected in a minute, which can effectively reveal the true face of our services.
People can easily find out about the ongoing development works all over Jammu and Kashmir through the Jan Bhagidari online platform, he said. "Digital governance ensures fair governance. We need to remove the need to visit government offices with digital services.
Digital services are truly transparent and non-discriminatory in nature, in addition to being free from corruption," he continued.
The Chief Secretary said that under the Civil Service Guarantee Act, officers who fail to provide their services within the stipulated time will be penalised.
Deputy Commissioners were also asked to publicize the Act in this regard. He informed that Aapki Zameen Aapki Nigrani Land Records Information System is the most visited digital service of UT government.
He also called on the public to link cell phone numbers to their land records to get timely updates regarding their land. He led the revenue department to ensure effective digital integration of all their services.
Ensure that people's rights are protected through digital services, he remarked and urged everyone to encourage others to familiarize themselves with over two hundred online services provided by the government.
The Chief Secretary has instructed officers in the School Education Department to ensure a biometric attendance system at all UT schools, in addition to providing students with online feedback on the quality of education that is provided to them.
While the Jal Shakti department has been instructed to ensure the maintenance of a strong billing, feedback and grievance system, the Department of Health and Medical Education has been instructed to regularly publish hospital rankings obtained through the Mera Aspataal (my hospital).
This is an online service through which the public can give their opinion on public hospitals. He called for a pre- and post-monsoon nallah cleaning record to be kept in digital format and for all local urban J&K organizations to have their own websites.
Addressing the Deputy Commissioners, the Chief Secretary urged them to start issuing land booklets and immediately implement the PM Gati Shakti and Digital India GENESIS initiatives. The respective SP offices have also been instructed to fully integrate the e-office.
Dr. Mehta also called for providing intractable videos alongside online services to educate people on the procedures to avail online services. Departments also asked to upload their legacy data online as soon as possible.
Our efforts will not be successful until all records and services are online, he noted. The integration of various online services with DigiLocker was also highlighted by the Chief Secretary.
Heads of departments and senior executives gave a PowerPoint presentation on the digital services they provide and the integration of various other services in the near future by them. Prizes were then awarded to the top performing departments, heads of departments and districts in adopting and promoting digital service platforms.
The event brought together administrative secretaries, deputy commissioners among various heads of departments personally and virtually as well.