Avny asks agents to encourage people to use online services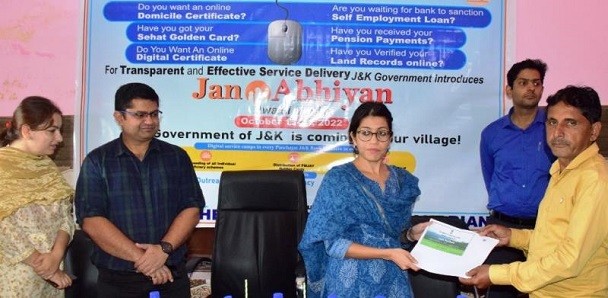 Avny asks agents to encourage people to use online services
October 20, 2022, By Cross Town News
JAMMU, OCTOBER 19: DDC Jammusa said that to provide online and other services to the public in an efficient and transparent manner, the Jammu district administration organized Jan Abhiyan in different parts of the district and following which the deputy commissioner, Avny Lavasa, attended the campaign in remote areas of the Maira Mandrian block. and Dansal and inspected the arrangements there.
The deputy commissioner distributed digital land books and different types of certificates among residents, including inheritance transfer certificates.
She also reviewed the functioning of the revenue department and revenue related issues/services in addition to the status and progress of development projects and programs in the region.
The Deputy Commissioner conducted a detailed review of the drafting and digitization of the Jamabandis, the implementation of the SVAMITVA program, the state of eviction of unauthorized occupants of state lands, the resolution tax court cases on RCCMS portal, issuance of online Fard Intkhab and other services, attestation of Pending Transfers, land acquisition and payment of compensation, progress on Jammu-Akhnoor road, Ring Road, Akhnoor-Poonch road, etc.
Regarding electronic rent payment, the Deputy Commissioner instructed officers to pay rent to beneficiaries without further delay.